We decided to put in new floors.  We went with Chase Flooring since I used to live next door to the owner and they did a nice job with our previous floors. They certainly aren't cheap but they promised quality. 
In the end, the finished product looks good, but the process getting there was really frustrating.  If we were to do it again, we'd go with someone else.  Key thoughts (fully detailed in my venting below):

I've been in sales for 25 years and I feel the sales guy did a poor job estimating the total cost from hardie board to sq ft of tile.  However, biggest issue is there was little expectation setting done.
The operations person was wonderful – she kept me sane and gave realistic expectations.
The tile job was estimated at 4 days – it took 9.
The crew had little direction and certainly didn't like getting it from me, but for what we paid, I expect as near as perfection as possible.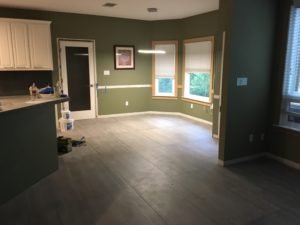 11/08 – They were here early to clean up and finishing grouting the back splash.  They did as good as job as they could cleaning the big stuff, but the whole house needs a deep dusting and scrubbing.  Now the long process of putting everything back.  Also, we bought far too much tile, lots of left-over.
11/07 – They finished the floors and brought back the fireplace material.  One of the guys stayed late and put the fireplace up.  Looks great.
11/05 – 11/06 – Both guys worked both Saturday and Sunday.   They did what they could, but ran out of grout and the fireplace material hadn't arrived.
11/04 – Install proceeding but only one person most of the day – pictures below.  Drama of the day was Tracy was supposed to pick grout from 2 pamphlets they left behind.   The pamphlets describe not only the color, but the different options.  In detailed Tracy fashion, she researched all the options of sanded, un-sanded, and epoxy.  She sent an email with the choices.  I get a call from the sales in the am.  He is miffed and saying they don't do that, etc, etc…  I was tired of it all, so I had him talk to Tracy who asked for advice since he was the expert…. no response.  In the end, they used the type she picked which doesn't stain nor have to be sealed – not sure why it's not the default choice always.
11/03 – Carpet did go in as planned today.  There were many on the crew and they worked fast.  Carpet looks great.
11/03 – Partial crew today – slow going and it started to rain.  New twist is that they ran out of hardie board so I got a call from the sales guy that they needed more and he needed to charge me another $900…  I tried to understand why that it my responsibility when he bid the job and was onsite for the bid.  There wasn't any surprises with the tear out.  He basically said that it's a change order, but his quote doesn't even detail the amount of material so how am I even to know how much was included.  I just want this over with, so I said to do it…. really frustrating since it appears there is zero accountability to doing the job right the first time.
11/02 – Rest of the day progressed – once the wood from the prior install was removed – everything matched perfectly.
11/02 – On the way back from home depot, got a call from the sales guy that they were going to charge me more to fix the issue.  I pointed out that they were fixing their problem.  He basically said tough…  I was ticked, not that it was going to cost more, but that they created the problem and wanted me to pay to fix it.  On top of it, he said that the installers didn't like me checking on their work – I asked him which is it, should I let them make mistakes like they did before or take responsibility to make sure it's done right since the company didn't seem to care?  In the end, I gave the crew chief an extra $100 for the extra work – they shouldn't be in the middle of it.   The installation price I paid to replace the floor with tile (not including the tile) was ~$8/sq ft so I don't think a high expectation is unwarranted.  I bought the crew sandwiches.
11/02 – 9am One thing that I noticed the evening before is the last tile install (done by the same company years before) was done incorrectly.  They had laid tile on top of the wood floor plywood and even one board of the wood floor.  It would cause an uneven floor.   I had 4 spare pieces of tile and found 3 more at home depot.
11/01 – Rest of the day went well – they got all the demo done.  I don't think these guys like my attention to detail – I bought them pizza to try and keep them happy
11/01 –  11:00am Truck here and3 guys working now – hopefully demo and clean-up will be done today.
11/01 – 8:15am no one here so I call the ops manager.  It's 8:35 now and 2 guys just showed up- not the 4, I was told would be here.
10/31 7pm – wood is outside and the guy leaves.  The plywood is covered in nails and we have to walk around the house to get through it.
10/31 – 6pm Supervisor is going to leave, since there is no truck the floor is left on my porch and aside the house.  No big deal for a day.  The bigger deal is the plywood is still down and covered in nails – I'm assured that they will be hammered down so it's possible to cross the house without going outside.  He tells me the full crew will be there at 7:30am – I encourage 7am so they missed traffic.   What it looked like when he left:
10/31 – Around 3:30pm the supervisor shows up.  He jumps right in and starts tearing up the floor.
10/31 – 2:01pm He comes back alone.  I email the ops manager and she refunds the furniture moving charge since I'm going to need to help him.  She says she will send the supervisor.
10/31 – 1:13pm  I called the ops manager to see if they are coming back.  I'm told they will be there in 15 min and he had to pick up the rest of his crew.
10/31 – 11:07am – one guys shows up for demo with a tiny truck.  Impossible since the plywood also needs to come up.  I ask if they are going to cover anything (since I paid for prep) – doesn't have any plastic and leaves for home depot
10/30 – I spent most of the day packing everything and disconnecting all the electronics.  Besides the large furniture, the house is fully prepped.
10/28 – 11:01am – Tracy stayed home from work for the install, since I had to set-up for my event – she called the operations manager only to find out the sales guy was supposed to call and let me know the carpet hadn't arrived.  "the carpet is not in yet and will be in till next week.  Carpet is always after tile install, even though separate areas."  Maybe the appointment shouldn't have been made? Frustrating since I ripped the media room apart for this and had to push back the trim guys and furniture installers.
10/20 – Was emailed that the carpet will be in on 10/25; installed scheduled 10/28, from 9am to 11am  "The first availability I will have will be Friday the 28th. Will that work for you?  The arrival time should be between 9-11am."