Over the past few days, the dogs and I have explored some of the trails around BV.  On Wednesday, we climbed up the bike trail across the river and took the Whipple trail back down.  Great views of Mt Princeton.
On Thursday, we went 10 miles West of town to the Avalanche Trailhead.  We hiked the CT and  climbed up 2600ft to the top of the pass.  Tomorrow, I'm going to go back without the dogs and do the same hike, but continue West and see how far I can get up the East ridge of Mt Yale.
The dogs are crazy about "mountain gerbils" – they want to dig at every hole.
There is still lots of snow and Darby and Izzy don't know what to think about it.  Both dogs love to stick their heads in it and Darby also rolls in it like a polar bear trying to dry itself off.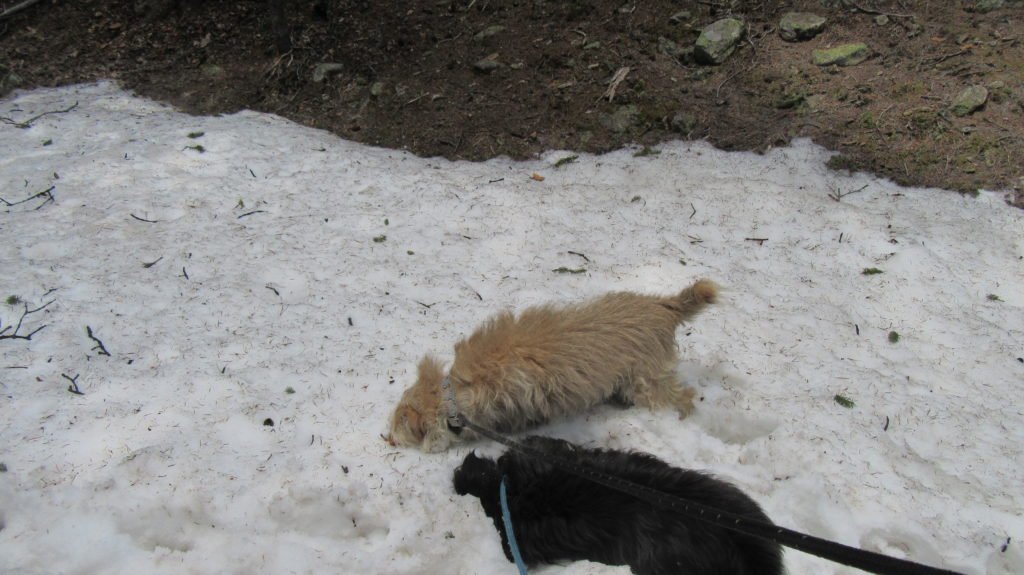 When we reached the top, the dogs were on alert for any wildlife.
Afterwards, we went to happy hour for beers and dinner.  The dogs were exhausted and soaked up the sun.
Today, we went back to the same trailhead and went the other direction.  We did a 5 mile out and back to the river.   The trail rolls a lot, but in total we only climbed about 800ft.  Izzy gets hot and likes to lie down in creeks.